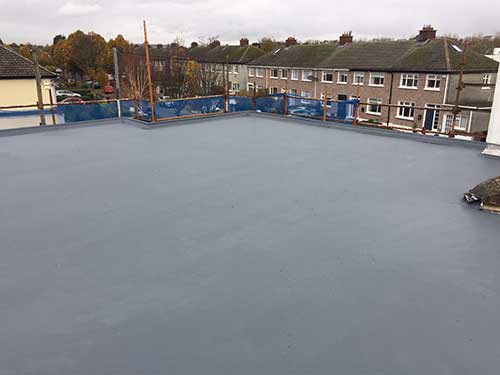 Warm fiber glass roofs are designed to last against all weather conditions and Irish weather can be quite challenging.
Their build in insulation value meet all Seai and European standards.
The fibreglass finish is highly durable and modern in appearance with virtually no maintenance.
All our Fiberglass warm roofs come with a 15 year Guarantee.
Glass Fibre is extremely versatile, strong and waterproof, making it the ideal solution for roofing systems. The ability to produce different finishes such as nonslip surfaces combined with a wide range of colour options for applications of almost any complexity means that GRP is now a popular alternative to traditional roofing systems.
We can offer:
Free site surveys and quotations
Full supply and fit programme
High standard of workmanship
15 year guarantee
We hired Absolute Acrylics ltd to replace our aging felt flat roof. They removed the roof and installed insulation between the joists and finished with a really nice looking fiber glass roof.
We received a 15 Guarantee and are very pleased with Noel and his staffs professionalism and workmanship.2019
Lorraine in Raheny.D5
Gallery