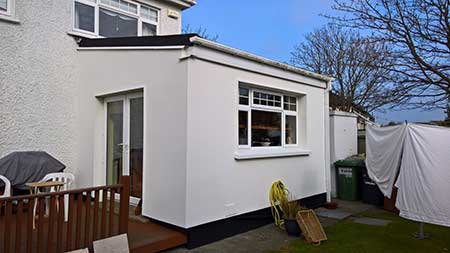 Please note: Partial Insulations don't qualify for any grants but do qualify for the vat refund HRIS by revenue.
Gable walls.
Did you know that 48 % of heat goes out through the gable wall?
Many of our customers decided to go with partial insulation on just the gable wall. The heat retention is very impressive and had great results in energy savings.
We have a selection of acrylic Renders or Marble chip dashing to choose from.
Examples of Gable Wall External Insulation
Kitchen and Front of House Extensions.
Kitchen extensions are exposed on all three sides and on the roof. This makes them extremely venerable to cold. People in generally send much of their day in the kitchens. We can insulate the walls externally and also offer roof insulation as well.
Examples of External Insulation on House Extensions
Bedrooms
It is possible to just insulate just the bedrooms on a house. It really depends on the house layout. Please see photo attached.

Back of a House.
Some of our customers just decide to externally insulate the back of the house.
This way they get to keep the features on the front if consistent with the neighbors and area.